Minimize Backlash at Higher Angles
High speeds can be problematic for joints fitted with plain friction u joint bearings, even if the transmitted torque is low.
Needle-Bearing universal joints are equipped with roller u joint bearings that reduce friction. These high-precision joints are built to maintain minimal backlash at higher angles for critical applications, such as robotics and instrumentation. They deliver superior lifetime at continuous operations and high RPM at operating angles of up to 45°. They have the capability to be rebuilt when wear and tear occurs – a Belden exclusive. 
Features:
Minimizes and maintains near-zero torsional backlash 
Superior lifetime at continuous applications and high RPM (up to 6000)
Operating angle up to 90° (45° per joint)
Needle bearings lubricated for lifetime of the joint
Boot covers are recommended in gaseous and abrasive environments
Yoke material: fatigue-proof steel or stainless steel
Cross material: high-grade alloy steel, hardened and precision ground
Hub ends available with several standard bore configurations (plain bore, keyway, hex- and square bore)
Optionally available Platings: Zink, Nickel, Cadmium, MoS2, Black Oxide
Pin & block design with needle bearings available as well
Telescoping Drive Shaft also available upon request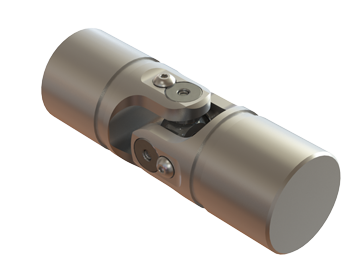 Needle Bearing Universal Joint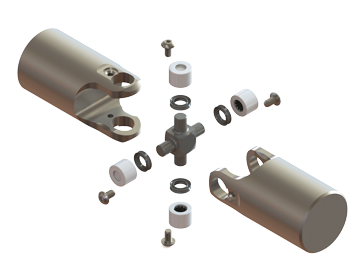 Needle-Bearing Joint - Exploded View