Specialty Universal Joints for High-Complexity Applications
Belden Universal is at the forefront of undertaking custom u joint and driveshaft product development for challenging applications.  We deliver design-engineered solutions meeting highly complex operating criteria. Belden also offers 3D printed prototypes.
Universal Joint Assembly Quote Request: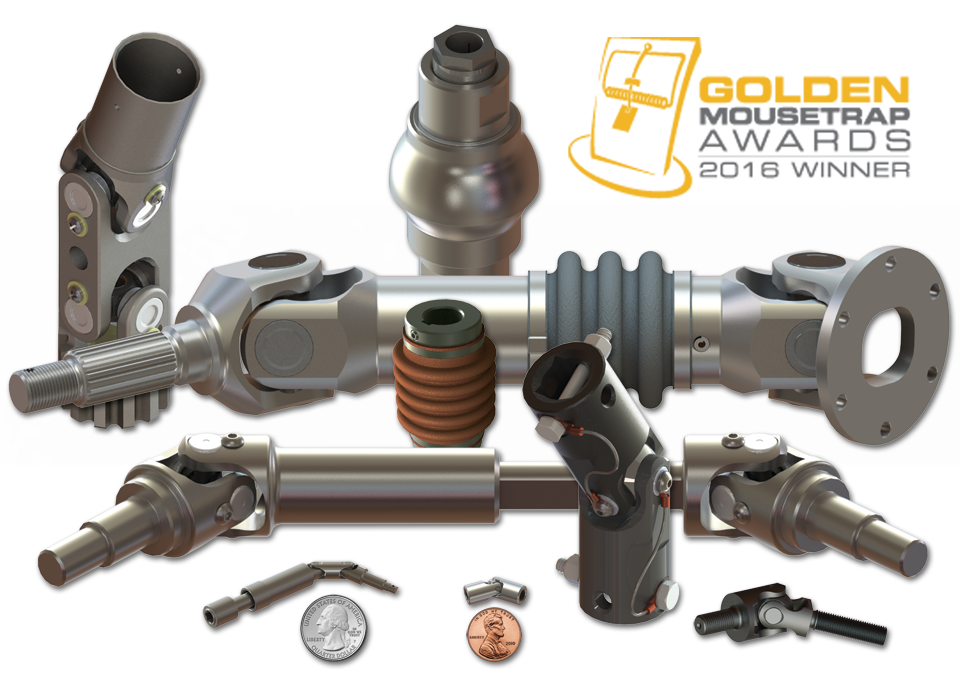 Regardless of the challenge, Belden is committed to providing a solution. 
Custom Universal Joint Example

A leading global food processing company experienced failures of its standard needle-bearing u-joints, stemming from the wash-down phase of its automation equipment.
After discussing operating conditions and specifications, Belden custom-engineered a stainless steel, hybrid "pin-and-block / needle-bearing" joint with composite bushings. This hybrid design delivered both the higher torque capacity of a friction-bearing pin-and-block component, and the speed, durability and low backlash of a needle-bearing joint.  The end result was a wash-down-safe component, without corrosion, contamination, burnout, and joint seizure issues, operating at high-RPM over extended periods with low backlash, minimal maintenance.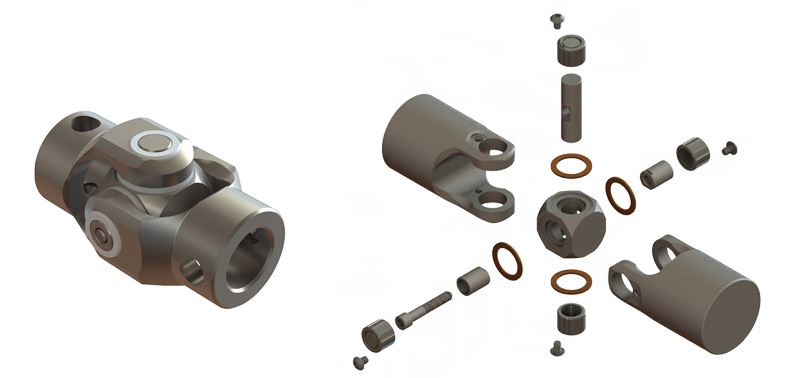 You may view additional design project examples at https://www.beldenuniversal.com/product-highlights.
End Hub Configurations
Belden offers a wide variety of end hub configurations for custom universal joints. The six most conventional hub types, in either male or female, are available in inch or metric sizes.



Miniature Joints to Large Outside Diameters
Belden offers miniature joints with an outside diameter of 0.315" [8 mm] or smaller if required. Materials include stainless and heat-treated alloy steel. Customization and double universal joints are available for operational angles above 35 degrees.
We are also equipped to manufacture custom joints and shaft assemblies with outside diameters up to 8 inches. Just fill out the RFQ to get pricing and more information from one of our application specialists.
Unique Materials for Special Applications
We offer an extended selection of special materials, delivering increased strength, improved wear, corrosion resistance, and other qualities with our custom u joints:
AISI 303, 304, 316L, 416, 420, 17-4, 15-5 Stainless Steel
Aluminum, Bronze & Brass Alloys
Duplex Stainless Steel; e.g. S32760
Super Alloys; e.g. Inconel
Titanium & others
All materials can be plated or additionally treated to improve corrosion resistance or provide other functionality. Some options for plating and surface treatment procedures:
Zinc plating
Nickel plating
Cadmium plating (for aerospace stainless steels)
Black Oxide treatment
Electro Polishing