Leading global engineers and machine builders across a wide variety of sectors look to Belden Universal to solve their most difficult power transmission challenges. We provide various solutions from standard to custom for all sorts of challenging applications and environments. See if our internally spring-loaded high-strength drive shaft could help you solve your application challenges.
A Closer Look At Our Drive Shaft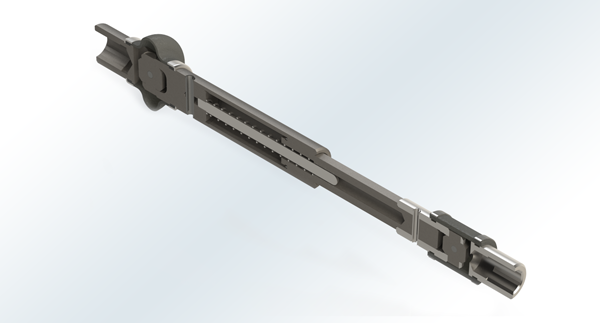 The above image is partially exposed for a better view of the joint and its components.
This telescoping alloy-steel drive shaft was built with a high-strength design to handle higher torque loads. The hubs have been heat-treated for increased strength. The shaft is internally spring-loaded, to accommodate an oversized hex shaft and to keep the components confined to the shaft.
For additional durability, the ends were outfitted with 'blind bores' to a specified depth, rather than fully through-machined. The moving components are protected by one single-bellow boot cover and one low-profile boot, to enable operation in a tight envelope.
Work With Belden's Expert Design Engineers
Belden Universal would appreciate the opportunity to discuss how we can help you achieve your power transmission goals. We carry the highest levels of quality certifications, including AS 9100D.
Our website includes a wide array of case studies to demonstrate how Belden Universal's expert team of design engineers and technical staff delivered innovative solutions for extreme applications. Our Product Overview page is a good place to start finding the right solution for your application. To set up a quick technical review call with us, please feel free to contact us online or call (708) 578-6073.